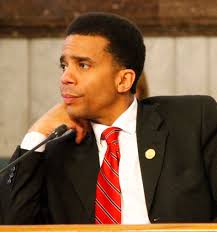 This firm has been pleased to represent Cincinnati City Council member Christopher Smitherman in an action before the Ohio Elections Commission regarding some $300,000 secretly spent during the 2013 City Council election targeted towards the defeat of Smitherman.
In that year, Smitherman was running for reelection.  Smitherman is African American and was then the President of the Cincinnati Chapter of the NAACP.  Mysteriously, ads began appearing on Black radio accusing Smitherman of selling out the African American community and encouraging people to reject Smitherman at the polls.  Lots and lots of ads.  These were followed by printed flyers with similar messaging distributed primarily in the African American community.  The ads were placed by a group called "Cincinnatians for Jobs Now."
However, Cincinnatians for Jobs Now had never existed before.  No one had ever heard of it.  And no one knew of its members.  Further, it filed no campaign finance reports as required by Ohio law to reveal its donors or the expenditure of its funds.  They had spent hundreds of thousands of dollars secretly in violation of Ohio law.
This firm was retained after the election to bring a formal action before the Ohio Elections Commission to pursue this matter.
The secretive group claims that it is no group at all and included no one from Cincinnati, but rather was a single individual named Jonathan White from Dayton.  White testified both in his deposition and at trial before the Ohio Elections, incredibly, that he set up a P.O. Box for the new PAC, but told no one of the P.O. Box address.  Magically, several checks signed by union leader Rob Richardson, Sr. totaling $300,000 then showed up in that P.O. Box.  This fiction was important for Cincinnatians for Jobs Now to maintain inasmuch as cooperation between two or more citizens constitutes a PAC that must report.  The failure to do so is a criminal violation.
The OEC refused to issue to Rob Richardson, Sr. a subpoena to force his deposition.  They did issue two subpoenas to force his participation in a hearing before the OEC, and yet, illegally, he refused to appear.
In the end, the OEC found that Cincinnatians for Jobs Now and Jonathan White had engaged in illegal conduct, ordered them to file their campaign finance reports and levied a $15,000 fine against them.
It took nearly three years to bring the matter to a hearing and to arrive at this conclusion.
Our thanks go to attorney Curt Hartman and to a steadfast client, Christopher Smitherman, who both saw this matter through to a successful end.
The Cincinnati Enquirer has this story on the case this morning.