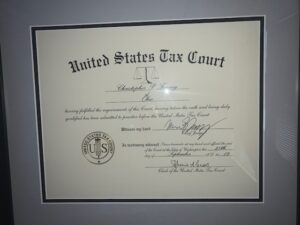 Who says you can't teach an old dog new tricks?
In the past year, I got two new bar admissions, the D.C. District and Bankruptcy Court and the United States Tax Court.
I obtained the Tax Court admission to help a client avoid a small tax penalty due to his securities dealer mishandling his IRA account and reporting the monies in it as having been distributed, when no such thing happened.
We won without even having a hearing, so my record is 100% before the Federal Tax Court. If I never file anything there again, I might keep that perfect record!
In any event, I have another certificate for my wall. Thanks to Diane Finney for keeping me looking sharp!