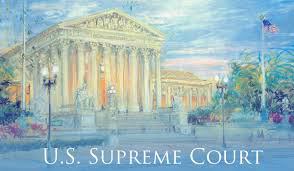 Next Thursday, Christopher P. Finney will present to Cincinnati's Lawyer's Club the topic "Mr. Finney goes to the United States Supreme Court," a speech on his experiences in having a case accepted by the nation's highest court, having it presented (another attorney made the oral argument) and winning in a unanimous ruling.
"It has been the highlight of my legal career to date has been to position a case for acceptance by the United States Supreme Court, to have it presented and to win," said Finney.  "The experience was made all the sweeter because up until the nine Justices spoke, not a single judge, at the trial court level or at the appellate level, saw any merit in our arguments.  Strategy, persistence and a firm belief in our position prevailed."
Within just months of forming the Finney Law Firm in 2013, we learned that one of our cases had been accepted for oral argument at the United States Supreme Court — Susan B. Anthony List v. Ohio Elections Commission.  Getting a case accepted for oral argument by the United States Supreme Court is the legal equivalent of lightning striking.  The Supreme Court typically accepts fewer than 1% of all cases for which certiorari petitions are presented, and many of those arise from either very high profile issues of great public interest or cases of statutory interpretation arising from the D.C. Circuit.  In the year in which we presented, more than 10,000 petitions for writs of certiorari were presented, and only 69 were accepted for oral argument.
The Susan B. Anthony List case challenged Ohio's political "false claims" statute, in which the Ohio Elections Commission sits (used to sit) in judgment of whether statements made during the course of political campaigns — candidate and issue — were "false" and if so, could refer them for criminal prosecution, involving up to six months in jail.
Our legal team presented that case in April of that year, and won a unanimous ruling from the U.S. Supreme Court in June, authored by Justice Clarence Thomas.  The case as it ascended to the United States Supreme Court was merely about whether our clients had standing to challenge the subject statute.  The Supreme Court decision found that standing existed and remanded the case for further proceedings in the trial and appellate courts, where some months later our clients ultimately prevailed.
Navigating legal shoals to have a case accepted by the United States Supreme Court and positioning it most strongly for victory, including by its written and oral presentation, involve intense strategy and hard work, much like a chess game or a championship boxing match.
That experience in this one case, and two more that the firm had accepted and won on only written briefs, will be presented by Christopher P. Finney next Thursday, February 16, 2017 before Cincinnati's Lawyers' Club at the Montgomery Inn Boathouse at 11:30 AM.
Also presenting that same day from 12:45 to 1:45 is Cincinnati attorney Daniel Drew on Civil Asset Forfeiture Reforms.
If you want to attend, you may sign up by contacting attorney Bob Cettel at (513) 325-2279 or via email at cettel@mac.com.  The cost is $20 per CLE session for Cincinnati Lawyer Club members and $25 per session for non-members.  The cost is $30 per year to join the Cincinnati Lawyers Club.
The Cincinnati Lawyers' Club was founded in 1920 and gathers attorneys together for civic undertakings and continuing legal education programs.  We thank them for this opportunity to present our experiences on this exciting journey to the United States Supreme Court.
Please feel free to join us that day!