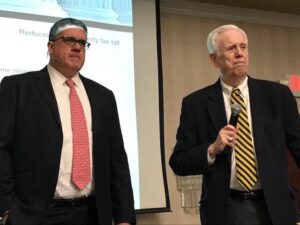 Tonight, Hamilton County Auditor Dusty Rhodes and attorney Chris Finney presented to the Greater Cincinnati Real Estate Investors Association on the topic of "Property Tax Reduction."
The presentation went in-depth in instructing property owners on the procedure to reduce the Auditor's valuation of real property in Ohio to achieve tax savings.
We thank the County Auditor for appearing with us in this important public service!  And we thank REIA founder Vena Jones-Cox and REIA President Scott Ellsworth for making this presentation possible.
Property owners are reminded that March 31 of each year is the deadline in Ohio for tax challenges.  You may call Chris Finney (943-6655) for more information.