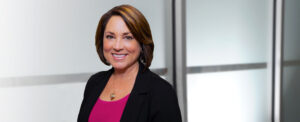 Finney Law Firm is pleased to announce that
Attorney Susan Cress Browning
, a veteran consumer bankruptcy attorney, has recently joined our firm and anchors our bankruptcy law group.
Susan has a passion for the practice of consumer law. Her membership in several legal associations have afforded her the opportunity to learn from and educate some of the most respected consumer law practitioners in the country. This invaluable experience, combined with her strong compassion and commitment to her clients, has culminated in Susan's successful consumer bankruptcy practice.
Susan earned her Juris Doctorate cum laude at Northern Kentucky University's Salmon P. Chase College of Law in 2002. Her practice includes the filing and management of Chapter 7 and Chapter 13 consumer bankruptcy cases. She is admitted to both Ohio and Kentucky Bars and to both State and Federal Courts.
She will be located in our Mt. Adams office and will meet with clients at either of our office locations. Please contact Susan (513-797-2857) for a free consultation.