There are a plethora of fantastic apps that help real estate professionals ply their trades from their cars, from the coffee shop, from a property you are viewing or from home on their phones.  Each of the apps listed here are available at the Apple Store and are free.  Many will also be available at Google Play.
We picked some we like at Finney Law Firm and polled some of our Realtor, lender and investor clients.  Here are the top ten:
1. Amortization calculators.
There are a host of apps for calculating mortgage payments and running amortization schedules.  The simplest one is "Mortgage Calculator for IPhone" and "Mortgage Calculator for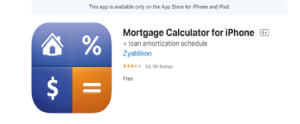 2. Zillow.
Zillow has revolutionized the real estate marketplace on the ,mobile platform.  It helps Realtors and mobile buyers find properties and their listing and sales information.
3. Gas buddy.
There is no longer a guessing game to find the cheapest fuel for the mobile professional. Gas Buddy instantly identifies the cheapest gas within range of your car or any zip code you select.
4. Social media.
Sorry, but it's a scrum for the best social media platform to promote your business and communicate with your customers and potential customers.  Facebook clearly has the broadest reach, but YouTube, Twitter, Linkedin, and Instagram each have their audiences.  Today's plugged-in (or wireless) real estate professional can't live without these platforms.

5. Genius scan.
If you had house plans or a plat of a development or subdivision, the only options were to buy a large-scale scanner for the office or to drive to Kinkos. Now, the coolest, fast and free option is Genius scan. You download it onto your cell phone, and just take a picture from a desk, conference table or dining room table of a plat and viola you have a clear PDF of any drawing.  This image can later be placed on any computer screen or printed.  It is life-changing.
7. Dusty Rhodes County Auditor's web site.
Dusty Rhodes has a nifty mobile app that has most of the property search information at your mobile fingertips as are available on his web site.  In fairness, it looks like it is an off-the-shelf app used by most Ohio Auditors.
8. Credit Karma.
Free credit app information at your fingertips. Many lenders and Realtors have their clients download the app to understand how they will fare with lenders.  Constantly updated and reliable, Credit Karma is a great app and we recommend it. There are of course many other apps that can help with your credit scores as well including Credit Sesame, Nerd Wallet and Wallet Hub, as well as scores available directly from two of the credit rating services themselves: Experian and TransUnion.
9. DocuSign.
Indispensable in today's real estate marketplace are e-signatures and, of course, tehre are apps for that.  Each of Adobe Sign, DodLoop and DocuSign have mobile apps making e-signing even easier fro your phone.  We recommend DocuSign.
10. Around me.
OK, tihs nifty mole app is referred to as a "LifeStyle App. " When showing or viewing a property, it tells you stores, restaurants, hospitals, movie theaters, and gas stations near the property. It helps buyers understand the neighborhood in which they are buying.
11. Magic Plan.
Magic Plan is another creative application that allows you to measure and draw any space.  In 3D.  For free.  Check it out!
Conclusion
These are our top 11.  What are your ideas?