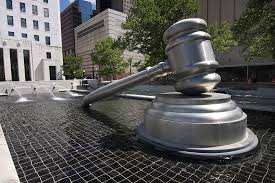 Fox 19's Jennifer Baker this week writes on a suit filed by Finney Law Firm on behalf of Ohio State Representative Thomas E. Brinkman, Jr.  against the Ohio Supreme Court over its recent decision upholding the last-minute cancellation of the 2020 primary election by Secretary of State Frank LaRose.
The Ohio Constitution pretty clearly requires:
"The decisions in all cases in the Supreme Court shall be reported, together with the reasons therefor."
(Article IV, section 2(C) of the Ohio Constitution), but the election-cancellation decision did not provide reasoning for upholding the cancellation.
Brinkman seeks to force the Justices to follow the Constitution and state clearly the "why," the reasoning behind the decision.
Since the suit is against the very Justices who violated the Constitutional provision, we expect they will recuse from the case and appoint sitting lower court judges from throughout the state to sit by designation to consider the issue, an issue of first impression before the Court.
Read the Channel 19 story here.
You can read the lawsuit here.
To speak with a member of our Constitutional Law team, contact Christopher P. Finney (513.943-6655).