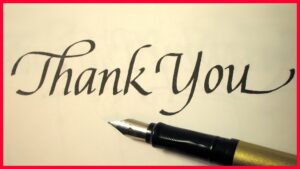 I want to extend a warm and sincere "Thank You" to the attorneys, staff, vendors, and clients of Finney Law Firm, LLC who have joined together to make our firm — dedicated to "Making a Difference" for our clients and in our profession and community — a tremendous success in our first four years in operation.
We started our new firm in Eastgate in the fall of 2013 with a great group of attorneys, a loyal and experienced staff, a top-notch lineup of vendors and a solid core of clients.  Since then, we have attracted more talented attorneys and staff, and have been met with simply overwhelming response from our clients.
We started with just four attorneys and three staffers.  Since then, we have grown to nine full-time attorneys, and are about to add our tenth.  We have expanded the law firm at Ivy Pointe in Eastgate three times, and eventually added space in the Rookwood Pottery building in Mt. Adams.  Just weeks ago, we tripled our space at Mt. Adams, so that the two offices are now roughly equal in size.
Under the leadership of attorney Rick Turner, we started Ivy Pointe Title, LLC in the fall of 2014 to support our commercial real estate closings and added to that base residential transactions.  He started with one full-time staffer, and now oversees an operation of seven full time employees. Due to tremendous success under his leadership, in November, we plan on doubling the size of the title company.
Our journey has taken us three times to the United States Supreme Court (with three unanimous victories) and numerous times to the Ohio Supreme Court.  We have handled dozens of multi-million dollar corporate and real estate transactions for our small business clients, and we have saved clients more than five million dollars in real estate taxes.  We successfully have handled numerous class actions for clients, including acting as local counsel for the ground-breaking class action against the Internal Revenue Service.  All of this is while we have daily served, client-by-client, to "make a difference" in their transaction or litigation matter.
These accomplishments are the result of the combined efforts of many people, and to each and every one of them I owe my deep gratitude.  The engine of commerce, the laboratory of legal innovation, and the commitment to client service we have made together is enduring and flourishing, ultimately, because we all work together to provide value for our loyal clients in each assignment.
Thank you, most sincerely, for making this such a fun, rewarding adventure!
Christopher P. Finney, President