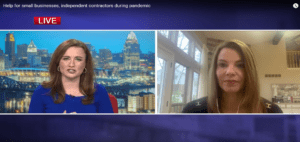 This morning, Finney Law Firm attorney Rebecca L. Simpson appeared live with anchor Angenette Levy on Local 12 to discuss the latest developments with the Paycheck Protection Program.
You may watch the link here.
Attorney Rebecca L. Simpson has been our point person inside Finney Law Firm to research and keep updated on the PPP and to advise clients on the intricacies of how to access Paycheck Protection Program funds for their small businesses each step of the way.  She has already led three webinars on the topic, with two more to come this week.
Contact Rebecca L. Simpson (513-797-2856) for assistance with the program.