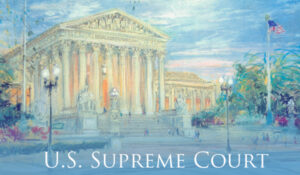 Here's our Constant Contact announcement of today to our clients and friends of our twin victories at the United States Supreme Court.
To commemorate this important occasion, we carefully tracked down and obtained permission to use this beautiful print of the United States Supreme Court from the Kamil Kubik foundation.
Thanks to our clients and our fantastic legal team for making this victory possible.  It is possibly a once-in-a-lifetime experience.
Read more about these huge wins, these two cases and our team here.