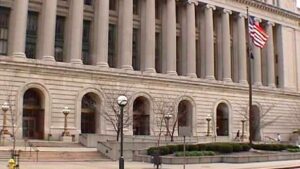 The COVID-19 crisis has created a series of delays in civil and criminal cases.  One of those casualties has been residential evictions in Hamilton County.
The problem
No evictions hearings have been held since March 15, and the earliest they are scheduling new hearings at present is July 28. This means not only that landlords can't clear their properties of tenants who won't pay rent, but also that tenants who deal drugs, damage property — or even worse criminal behavior — can stay in possession now for more than five months before the landlord can have a hearing to restore possession of the property to him.
Suing the Judges
Finney Law Firm has initiated a relatively unused action — for a Writ of Procedendo — to force the Hamilton County Municipal Court Judges to proceed with forcible entry and detainer actions. The Complaint, captioned State Ex rel. Salvador Properties v. Judge Heather Russell is here.
Other counties
Below is what our research has shown other counties currently are doing (note "per normal" noted below means you can timely get a decision in an eviction case; there may be modified procedures and hours to accommodate the crisis):
Butler County: Holding hearings per normal;
Warren County: Holding hearings per normal;
Clermont County: Holding hearings per normal;
Franklin County (Columbus): Holding hearings per normal;
Montgomery County (Dayton): Holding hearings per normal;
Summit County (Akron and all Municipal Courts): Holding hearings per normal;
Lucas County (Toledo): Holding hearings per normal;
Mahoning County (Youngstown): No hearings being scheduled; and
Cuyahoga County (Cleveland and all Municipal Courts): Cleveland and Cleveland Heights are holding hearings after 6/15/20 and 6/17/20, respectively, and other Municipal Courts (Shaker Heights and Berea) are holding hearings per normal.
So, of surrounding counties and Ohio's major urban counties, only Mahoning (Youngstown) and two of four Municipal Courts in Cuyahoga County are further delaying eviction hearings for COVID-19 issues. Other than Youngstown with no hearings being scheduled at all, Hamilton County presently is the worst in the State for scheduling eviction hearings.
Conclusion
This suit is one in a series of actions initiated by Finney Law Firm to re-open Ohio business and Courts that have been closed under the COVID-19 crisis. For more information, contact Chris Finney (513.943.6655).