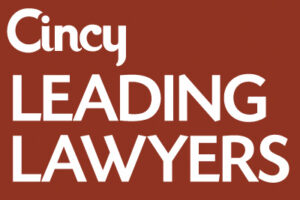 Christopher P. Finney, founder of Finney Law Firm, LLC, was named among Cincy Leading Lawyers® and was be featured in the February, 2020 issue of Cincy Magazine.  According to the publication, hundreds of members of Greater Cincinnati's legal community nominated colleagues for this honor, specifying a particular strength and area of practice for each, so it is a great distinction to be recognized by your peers.
ABOUT FINNEY LAW FIRM
In 2014, led by Christopher P. Finney, seven bright, hard-working attorneys and a dedicated and talented staff, came together to form Finney Law Firm.  Our team is committed to a unique practice of law that makes a positive difference for our clients by focusing on defining and then arriving at the best outcome for them. Finney Law Firm's practice has extensive experience in the broad range of legal services that individuals and businesses may need:
Business formation and development
Real estate
Cincinnati landlord/tenant law
Estate planning and administration
Commercial dispute resolution
Public interest law
Labor and employment law
Bankruptcy
Personal Injury and Wrongful Death
Water Law
Affiliated Title Company – Ivy Pointe Title, LLC
"We work relentlessly to add value for our clients by applying cutting edge legal strategies and utilizing highly productive technology, said Finney.  This approach allows us to keep pace with the changing demands of our clients' own challenging personal and business environments.
You may contact Chris Finney at 513.943.6655.